Messy Table i knoww haha
F I R S T D A Y

Wow. Today was the first day of school. In the first place I was bloomin scared and nervous but then I was calmer when my friends are around me. I was late and wen I arrived, the bell had rang. haha.

C l a s s
My class was OKAY. well dat is a first impression. Quite noisy esp da garcon's. And my class teacher is also OKAY. Her name is Puan Jamaliah I think. And some of da garcon's nominate me as the BENDAHARI. Who does all the money picking and all that crap. Im okay wiv dat. But the maths teacher seems quite "garang". I was quite scared wen she shouted at dis chinese boy.

Brochuree
T u i t i o n
Jaguh Gemilang
wee. I was scared and flipping nervous cuz my mum didnt send me up. Instead I had 2 go all by myself and dat place is really busy wiv ppl signing up and registering. So I came in my class and thankfully no one looked like a jacunist, and there's a few ppl there I already kno like Iman, Zul and Farah. All of them were sooo quite and I didnt even waste my breath haha. Owh yeah Im in package B.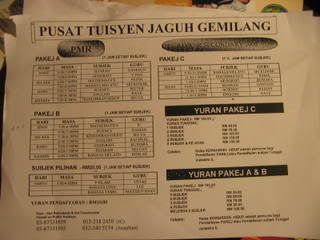 Timetable. So wat ure waiting for? :)
Overall, this is a good start for me and Im gladdd :D